For the better part of the past 60 years, Merlyn has divided his time between physical labor on the dairy farm, bouts of solitude while traveling up and down the corn rows in a tractor, and visits to his cows at least twice a day, every day, on his farm near Waubun, Minn.
Though Merlyn is now semi-retired and has turned the bulk of the physical labor over to his son, he still enjoys moments of solitude and visits, but of a different sort. Four years ago, after meeting Stephanie, a Hospice of the Red River Valley volunteer coordinator, at a meeting of his local Lions Club, Merlyn decided to volunteer his time and services to hospice patients in the Twin Valley, Minn., area. "I want to give something back since I have some free time," he shared. "I figured it might be interesting, so I got started in it."
He began visiting with patients, providing companionship and enabling spouses and caregivers to run errands while he stayed with their loved ones.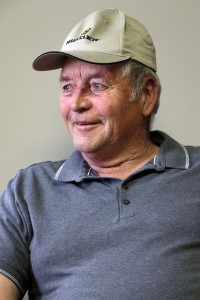 Merlyn said he's not too keen on making conversation, but as he reminisces about meeting Hospice patients, one begins to believe otherwise. He recalled one of his first patients, an "old time farmer," who loved to have Merlyn update him on the farming situation during their visits. "He had a bad heart, so sometimes he'd just say, 'I'm not doing good today. I can't talk.' Well, I'd just sit down with him and say what was going on with combining and how everything was. He was interested in listening. He was a super guy."
Farming communities tend to be tight-knit, and that has been an asset for Merlyn and his patients. A neighbor who'd been suffering from stomach cancer decided to return home under the care of Hospice, and Merlyn was able to visit him one time before his death. "He was an old neighbor," Merlyn remembered. "We used to carry on together, and I went over and visited with him. We talked about old times and growing up together." Merlyn attended the patient's funeral, and the patient's family approached him. "They came up and told me that it was the best afternoon ever. The visit had meant so much to him," Merlyn shared.
After Merlyn began volunteering, he thought it would be important to learn about the stages of end-of-life. "I've been with families during the dying process. I've seen the last moments," he said. "I took the initiative to get all the brochures from staff, and I've read them two or three times so I know dementia and Alzheimer's and the last three months and the last two weeks," he shared. His mother-in-law had dementia, and when family members visited her, Merlyn was able to tell the family what stage she was in and what to expect. That sort of knowledge is invaluable, he believes. "It gives peace of mind about what to expect and makes it less scary."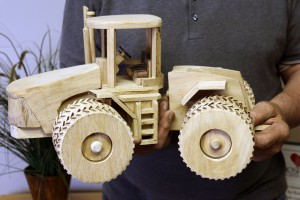 Aside from the time he spends volunteering for Hospice, Merlyn keeps busy with chores around the farm, he volunteers with 4-H, and, throughout the years, has drawn and painted whenever he has had a chance. "I got quite a few projects going around home," he shared, laughing. One of his passions is hand-carving miniature tractors from wood. In 2014 Merlyn raffled off two tractors and donated the proceeds to Hospice of the Red River Valley. "That got to be kind of fun," he said. "We raised $2,195 for Hospice."
"The tractor raffle was amazing," Hospice of the Red River Valley Volunteer Coordinator Steph Baker said. "He took the initiative to drive around the countryside selling tickets to benefit our organization. His attitude and spirit are to be commended!"
Merlyn's generous spirit and work with Hospice was one of the catalysts behind a recent honor he received: he was awarded the Lion of the Year Award from his club in Flom, Minn. While at an annual meeting in Mahnomen, Minn., "All of a sudden my name is called," he said. "I went up there, and they secretly snuck my whole family in there!" He was surprised and honored to receive the well-deserved award.
Despite everything he has already contributed to Hospice of the Red River Valley, Merlyn continues to volunteer and be a strong advocate in his area for hospice services. He's given talks on dementia and hospice services to several clubs in the area, and he wants to reach more people: "I might do some more of that and see if I can promote Hospice a little bit," he said. He's also working to recruit people he knows to serve as volunteers.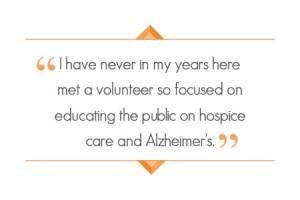 "I have never in my years here met a volunteer so focused on educating the public on hospice care and Alzheimer's," Steph said.  "He speaks every chance he gets and is always asking for more materials to learn more about our mission. He told me that he always likes to have a 'project,' and we are fortunate that his projects include spending time with our patients and spreading the word about Hospice."
"Hospice volunteering isn't for everybody," Merlyn said, "because a lot of people don't want to get involved with any part of near death. But Hospice is a good organization, and there's nothing negative about it at all. That's why I'm here. I do it because I enjoy it."