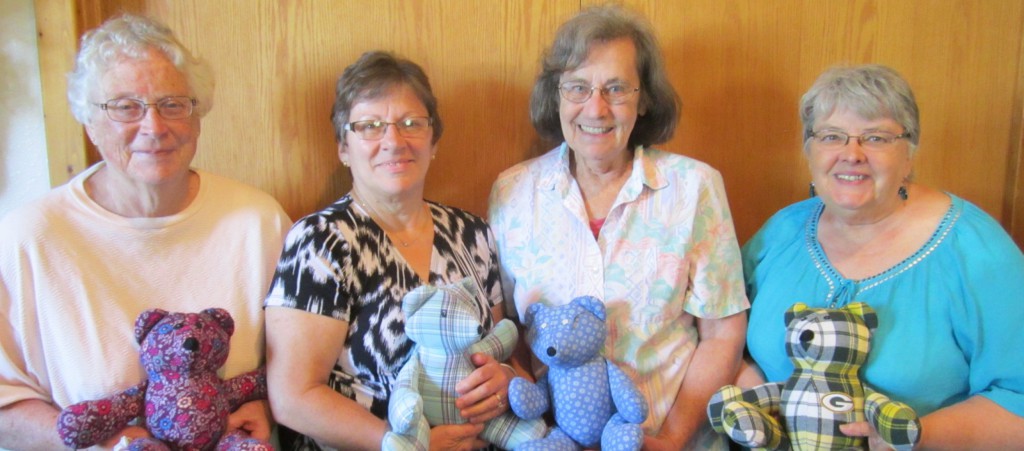 Fullerton, N.D., is a small town. Population: 54. It's a tightknit community whose residents have known each other for decades—growing up together, working side by side, looking out for one another. It's a community that Ruby Gramlow knows well. Ruby lives in Fullerton and works as a nurse for Hospice of the Red River Valley. "I think I have always liked hospice," she said," and I've always enjoyed being a hospice nurse." Ruby has also always liked to sew, first learning the skill in 4-H when she was a child. When she heard about a unique volunteer program through Hospice, she was intrigued.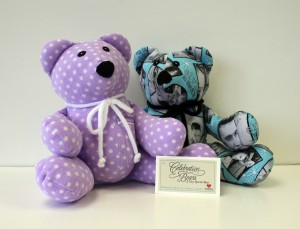 The Celebration Bears program at Hospice of the Red River Valley offers families a bear created from their loved one's clothing. The bears, which are handmade by Hospice volunteers from a pattern, are keepsakes to remember and celebrate the memory of these individuals after their deaths. Tracy Roche is a volunteer coordinator with Hospice of the Red River Valley. When she receives requests for bears from families, Tracy disperses them to volunteers, and she collects the bears when they are completed. The bears are then delivered to family members. "Each of these ladies have provided numerous bears that have brought so much joy to our patients' families," said Tracy. "Our Fullerton volunteers have the biggest hearts!"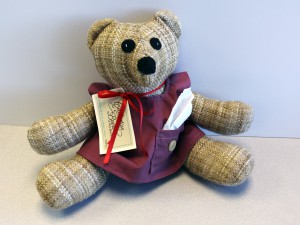 As part of her role as a Hospice nurse, Ruby was able to deliver completed Celebration Bears to a family member after a patient's death, and she was impacted by the experience. "Just to see the joy on his wife's face when she got the bears … it just brought tears to her eyes," Ruby shared. "It's like a little piece of their loved one is coming back to them in a different way."
She began volunteering with the Celebration Bears program in 2014. Because of the demand for the bears, Ruby decided to recruit volunteers for the program. She approached her local Catholic Church's altar society with the idea, and three women took applications. Virginia Hagen, Arb Lacina and Charlotte Glynn soon began volunteering with the program. "I'm excited they started volunteering," Ruby said. "They're beautiful seamstresses. Being able to sew, it's a talent God gave you. You've got to share it. It's something we can give back."
It turns out, most of the women were aware of Hospice prior to volunteering and had been touched by hospice care in one way or another over the years. In "this little corner of the world," as Ruby affectionately refers to their small town, Hospice of the Red River Valley has touched many lives.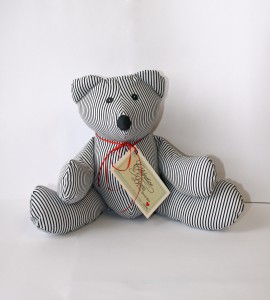 Ruby recalls caring for the mother of one of her fellow volunteers and the father-in-law of another, and Ruby's sister-in-law was on hospice care before her death. "She was just such a special person to this whole community," Ruby shared. "So people here know what Hospice does and what it provides."
The four Fullerton volunteers sew their assigned bears independently, and each woman has a story to share about her experience volunteering with Hospice.
Arb said she volunteers because it's a way for her to help someone else out and it's a nice change from the quilts and table runners she usually sews. "I enjoy getting the different materials," Arb shared. She remembers being given a ladies jacket to create a bear from. "The jacket was lined, and strips were sewn on the outside. It had a big button brooch on it, and so I put it on the bear when it was done."
"There have been some that have come through with a logo from an employer or a business or something that was special to that person," Ruby said. She usually incorporates the logo onto the bear's paw.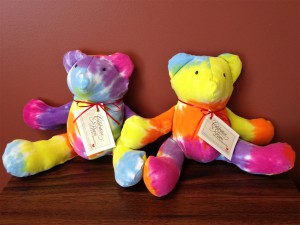 Special touches like the brooch and logos capture the memories and essence of the patients. And the sewers have the patient in mind while working on each bear. Virginia puts it this way: "It's like when I make a baby quilt for one of my grandchildren … you're kind of thinking of that person and putting a little prayer in it. I feel the same if it's bringing comfort to the family. It's so fun to see the different things that come out of an article of clothing. They seem to have personalities."
Ruby remembers one special request: "One time a note came across that said, 'Please do not wash these. I want the smell of Mom to linger,'" she said. "And of course then I had to sniff it, and it was a good smell. The mom had a good perfume, and I thought, 'I wouldn't want to wash it, either.'"
While Virginia doesn't have a personal connection with Hospice, she was still interested in volunteering. "I think it's a good organization," she said. "It was something that I could do at home in my free time. I wish I could volunteer more seriously, but given where we live, I am happy I can do this." Virginia's 97-year-old mother, Rose, joins in the bear-making process when she can. Her mother suffers from macular degeneration and is no longer able to do many of her favorite activities, such as sewing, reading or playing cards.
"One day when I was doing them, she said, 'I bet I could stuff them,'" Rose shared. "So while I sew the second set up, she stuffs the first one. She likes to be busy, so she really enjoys doing this." Virginia once made a bear from a western-style shirt with pearl stud buttons. "Ruby suggested I could incorporate them, so I used them for eyes. It was kind of a weird looking one," she said, laughing.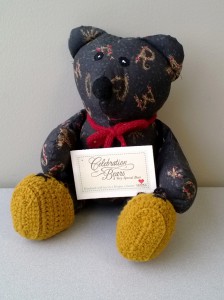 Charlotte has been sewing for 55 years. After retiring, she decided to volunteer. "I just feel it really is a good program and so helpful to people when they really need it." Even though the sewers always use the same pattern, she said the bears look different and have their own personality because the fabrics are unique. Her most challenging fabric was a denim shirt that had an embroidered bird on each side.
"They wanted a bird on each bear. I thought, 'How am I gonna do this?' But I got it done." The challenges the women encounter while making the bears are worth the effort to overcome. " I got a thank you from a little girl who lost her grandpa, and it warmed my heart and made me feel like it was all worthwhile," she said.
"We don't know where the bears go, where they end up," Ruby said. Some of the women think it would be fun to meet the people who receive them, but as Ruby shared, they "understand we never will." They also understand the impact the bears have.
"Tracy tells me how excited the families are when they see them. Probably because of my work with Hospice and knowledge of the special bond you create with the families, I can just imagine that extra joy.
"I think if there's that one last connection, the family can hold on to their loved one. It's just so special to be able to give them that. Some days, I'm sure days are harder than others [for a patient's loved ones]," said Ruby.
"For them to hold this bear, and to let a tear or two fall, it's a good thing."