At Hospice of the Red River Valley, we are fortunate to have many dedicated volunteers. We celebrate their contributions to the organization and the many ways they enrich our patients' lives.
Click to find out more information about our volunteer program and how to apply.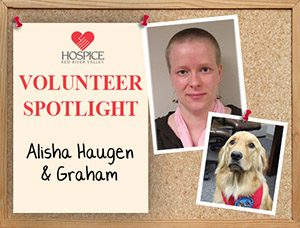 Volunteer Name: Alisha Hauge and Pet Therapy Dog Graham
Years of Service: 6 months
Location: Fargo, N.D./Moorhead, Minn.
Why do you choose to volunteer with Hospice of the Red River Valley?
In my professional life, I am registered nurse. I have always wanted to do volunteer work and be able to give more time to patients without worrying about all of the tasks that need to be completed during my shift. One way I wanted to meet that goal is with pet therapy. I have always believed in the benefits of pet therapy, but I was waiting for the right dog to come into my life. Then came Graham! Graham is a true natural, and I can hardly take any credit for his wonderful behavior. He was honestly born to be therapy dog. I often joke that Graham is the true volunteer, and I simply follow along to open doors and hold the leash. For more information on pet therapy, visit Therapy Dogs International for information about testing requirements.
What is your life motto or philosophy that you live by and why?
"When you help someone who is lost and confused, when you hold someone who is sad and grieving, when you hug someone who is unhappy and hopeless, you too will feel healed and whole." This quote reflects how I feel after I have volunteered. It makes my soul feel great!
I also want my children to learn that every person is important and deserves compassion and respect, and they too can give something to someone without expecting anything in return. The best way to teach these lessons are by being a good role model and showing them firsthand.
What is your favorite volunteer memory?
Anytime I take Graham into a facility, the experience is wonderful. My favorite times are when we visit someone who is a life-long animal lover who can no longer have pets because they live in a nursing home. These are people who miss their animals, and Graham can help fill that void. During one visit, I apologized because the patient was wearing black pants and Graham had left some visible pet hair. I quickly offered the lint roller I bring with to visits. The patient began to tear up and said, "No, I've missed having pet hair on my clothes. Thank you!"