At Hospice of the Red River Valley, we are fortunate to have many dedicated volunteers. We celebrate their contributions to the organization and the many ways they enrich our patients' lives.
Click to find out more information about our volunteer program and how to apply.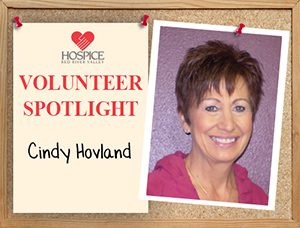 Volunteer: Cindy Hovland
Years of Service: 10 years
Location: Valley City, N.D.
Why do you choose to volunteer with Hospice of the Red River Valley?
Ten years ago a local couple, who already volunteered with Hospice of the Red River Valley, told me there was a need for additional Hospice volunteers in Valley City, and I had the time. I've often thought, "What if it was me?"
What was your first experience as a volunteer like?
Initially, I had no idea what being a volunteer with Hospice would entail. The first patient I visited lived in her own home. At first, I thought it might be uncomfortable during the first visit, but I soon formed a very comfortable relationship with her. After realizing she had very bad eyesight, I spoke to Hospice staff about visiting her every day. I wanted to read her the local newspaper since she couldn't do that for herself.
Why do you continue volunteering?
I have met the neatest people through Hospice, and I just don't want anyone to feel alone. I also volunteer as a Pathway volunteer, staying the bedside of patients who are in their last days of life. It doesn't matter what time of day or night, I want to be there to help. I'm happy I'm able to be there for patients during such a sacred time, especially if family and friends are unable to be there.
What do you enjoy doing in your free time?
In my free time, I enjoy traveling with my husband of 42 years, Keith. We have 10 grandchildren that also keep us busy. Four grandchildren live locally, and the other six grandchildren live in southern Minnesota. I also enjoy designing arrangements at a local flower shop.