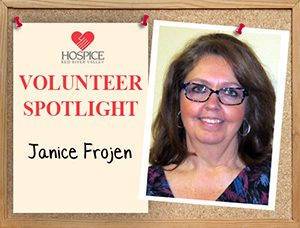 Volunteer: Janice Frojen
Years of Service: 1
Location: Oakes, N.D.
Why do you choose to volunteer with Hospice of the Red River Valley?
I had two very close friends on Hospice. One was a Hospice volunteer herself from South Dakota. She got diagnosed –went through treatments–signed on to hospice but STILL visited the patients she was matched with. She told me that they uplifted her through her disease–all while supporting and encouraging her. I was one of the personal caregivers for my other best friend. She lived in West Fargo and was diagnosed with cancer. We made our days fun. For instance, when Prince William was getting married to Kate all the way in England, we woke up at 3 a.m. and put on bonnets just like the rest of the crowd who was there did. Once a week, we would have a themed dinner and movie night. I became a Hospice volunteer after they died because it was a positive and rewarding experience.
How would you describe your perfect day?
As a Hospice volunteer: Walking into a patient's room and simply greeting them and getting a smile back. Most of my patients have had dementia, but I still connect with them. Sometimes it just takes a smile.
Personally: Being at home with my husband Steve, we've been married just a year-and-a-half, so we're newlyweds. I like to be outside waiting for and watching the flowers grow. I like to be outside with my Miniature American Eskimo dog named Avalanche, or Avi for short.
If you had no fear, what would you do?
I would travel. For so long, I was alone. My family didn't want me to travel alone, and I watched too much NCIS and CSI. My dream was to point the car in one direction and just start driving. My family bought me a GPS so I could do that, but then I got married.
Note: Janice traveled 60 miles roundtrip as a Hospice of the Red River Valley volunteer to give a dying patient's, out-of-state daughter the reassurance that someone would be with her mother when she passed. Instead, the daughter was at her mother's bedside and became friends with Janice as well.