At Hospice of the Red River Valley, we are fortunate to have many dedicated volunteers. We celebrate their contributions to the organization and the many ways they enrich our patients' lives.
Click to find out more information about our volunteer program and how to apply.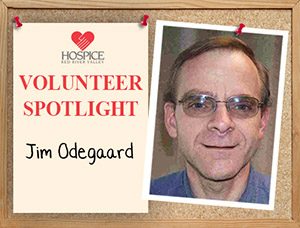 Volunteer: Jim Odegaard
Years of Service: 10 years
Location: Fargo, N.D.
Why do you choose to volunteer with Hospice of the Red River Valley?
I had heard so many positive things about the organization, so I decided to do some good for the community and start volunteering.
What is your favorite volunteer memory?
My favorite memories are just listening to patients discuss their past memories and life lessons. It's a positive learning experience for me.
What hobbies do you enjoy?
I enjoy watching sports, concerts, traveling, hunting, fishing and volunteering with Hospice of the Red River Valley and the Big Brother program.