At Hospice of the Red River Valley, we are fortunate to have many dedicated volunteers. We celebrate their contributions to the organization and the many ways they enrich our patients' lives.
Click to find out more information about our volunteer program and how to apply.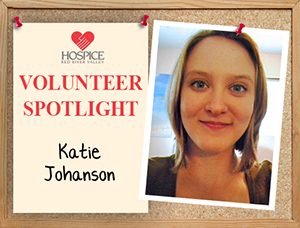 Volunteer: Katie Johanson
Years of Service: 10 months
Location: Fargo, N.D.
Why do you choose to volunteer with Hospice of the Red River Valley?
I choose to volunteer with Hospice of the Red River Valley because I want to make the most meaningful contribution to the community as I can. Since I have so much love for the elderly and am interested in a career in geropsychology, volunteering with Hospice is the perfect fit!
What is your favorite volunteer memory?
My favorite volunteer memory is of my very first patient. He had Alzheimer's disease and was noncommunicative, so I had to find another means to connect with him. One day, I brought my iPod with me and played some classical music, which I knew he enjoyed when he was younger. After a few minutes of music, Beethoven began playing, and my patient suddenly looked up, completely lucid, and said, "The piano." Those were some of the only words I ever heard him speak, and remembering that moment still gives me shivers.
If you had no fear, what would you do?
If I had no fear, I would go skydiving. I will still try it someday regardless, but I would do it much sooner if I was fearless.
If I could change the world, I would . . .
I would see that everyone is cared for and respected, especially the elderly. Because people are living longer and the number of elderly persons is growing throughout the entire world, it is more important than ever that we address their health and well-being with a critical eye—and as a team.