At Hospice of the Red River Valley, we are fortunate to have many dedicated volunteers. We celebrate their contributions to the organization and the many ways they enrich our patients' lives.
Click to find out more information about our volunteer program and how to apply.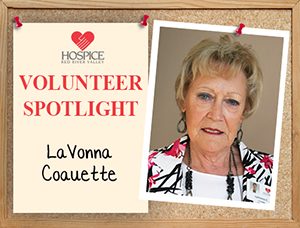 Volunteer: LaVonna Coauette
Years of Service: 2 years
Location: Fargo, N.D.
Why do you choose to volunteer with Hospice of the Red River Valley?
I need something to fill my time, so when I read about Hospice needing volunteers, I decided to give them a call.
Knowing what a great service they do and the comfort they give to those in need, I felt it was a good call. I enjoy the friendly staff and helping out with any projects that need to be done.
What hobbies do you enjoy?
I enjoy reading, playing cards, meeting friends for coffee and visiting.