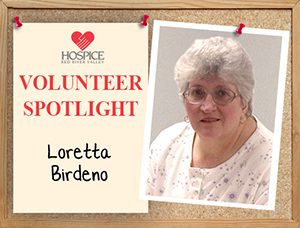 Volunteer: Loretta Birdeno
Years of Service: 3
Location: Jamestown, N.D.
Why do you volunteer with Hospice of the Red River Valley?
I had my first experience with Hospice in the late 1980s. My father-in-law became ill in Oregon. Not giving it a second thought, I became his primary caregiver and called hospice. Hospice at that time was still a pretty new movement. When I saw how comfortable hospice kept my father-in-law during his illness, I knew I wanted to get involved. When my mom and sister also became ill, my sister chose to begin hospice care, and my mom didn't start care through hospice, but as a registered nurse, I instinctively provided compassion care to both my mom and sister.
A little more than a year ago, I had a major health scare. I was rushed to the hospital with bilateral blood clots in my lungs. While I was in ICU, I worried because I couldn't visit my two patients that day. I spent nine days in the hospital, and today I am in good health and happy to be volunteering with Hospice.
It's a sacred honor to be a volunteer with Hospice of the Red River Valley. I encourage others to consider volunteering. You'll be the one who gets served by the souls you provide companionship for.
What are your hobbies?
To unwind, I like to drive out to peaceful places near Jamestown and just watch nature. After 45 years as a registered nurse, I'm retired and still enjoy giving back. I tutor and mentor kindergarteners-fifth graders at an after school program. One little girl calls me, "Grandma" and asks for hugs.
In her retirement, she will continue tutoring, mentoring and working part-time with Easter Seals. I also teach the primary kids at my church's Sunday school.