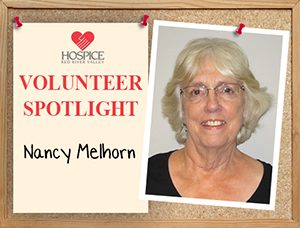 Volunteer: Nancy Melhorn
Years of Service: Five months
Location: Moorhead, Minn.
Why do you choose to volunteer with Hospice of the Red River Valley?
I volunteer to provide service and comfort to patients and those close to them. I also want to help health care professionals working with patients and families who are dealing with end-of-life issues.
Do you have a motto or philosophy you live by?
When being with others (in all times of their lives), I believe in working with dignity, respect and love. I've been fortunate to have others provide this for me. A long life allows time for reflection!
Share with us your connection with one of the patients you visit.
My visits with the patient I've been matched with have been filled with musical connection. The information sheet I received from Hospice indicated the patient loves music, so I use a hymnal from a local church to sing to her. When I sing, she seems to attend to the music, and I also read articles from the local paper about music to her. Recently, there was a young woman from West Fargo featured on a national singing competition TV show, and I was able to keep her up-to-date on the contestant's progress. I save articles I find about music for my visits with her, and she is thankful I share these types of stories with her.