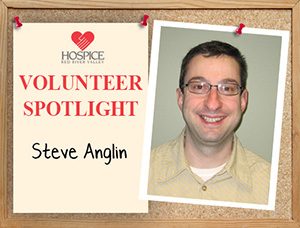 Volunteer: Steve Anglin
Years of Service: 1
Location: Fargo, N.D.
Why do you choose to volunteer with Hospice of the Red River Valley?
Originally, I became a volunteer because my father is in the stage of life, and he could benefit from a caring organization like Hospice of the Red River Valley. Throughout the past year, my feelings have evolved, and now I volunteer primarily because—even though the people I visit aren't my father—they are someone's father or mother, and I want to show them the same attention their family would want to give them.
What is your favorite volunteer memory?
My favorite general moments are getting to know the people I visit and sharing a connection with them in some specific way.
If I could change the world, I would . . .
I would create more compromise. We seem to live in a world of extremes, where a lot of good remains undone because of extremes in all directions. No one really wins that way, but everyone moves further apart, and those who need help the most are the ones who lose the most when we can't compromise. There are a lot of other good things I would create if I could, and compromise is just one of those things.
I would like to thank Hospice of the Red River Valley for allowing people like me the opportunity to connect with individuals who could use a friendly face in their stage of life. For those who haven't considered this service for their loved ones, I highly recommend learning more about Hospice of the Red River Valley.