At Hospice of the Red River Valley, we are fortunate to have many dedicated volunteers. We celebrate their contributions to the organization and the many ways they enrich our patients' lives.
Click here to find more information about our volunteer program and learn how to apply.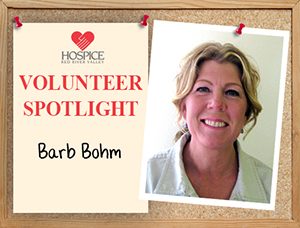 Volunteer: Barb Bohm

Years of Service: 5 3/4 years

Location: Thief River Falls, Minn.
Why do you choose to volunteer with Hospice of the Red River Valley?
I started volunteering with Hospice along with my daughter in her junior year of high school. We were looking for a service-based activity we could do together. I have so grown to appreciate and admire all the good things Hospice does, and I want to be part of their mission.
What hobbies do you enjoy?
Going to the lake, fishing and gardening. I have recently been elected to town council and will take my oath in January 2015, so I'm really excited about getting involved in that.
What accomplishments are you most proud of?
I am most proud of my two children, Angie and Reed. They are a true blessing to my husband Kevin and me. Raising children is not an easy task, but there is nothing more fulfilling.