At Hospice of the Red River Valley, we're fortunate to have many dedicated volunteers. We celebrate their contributions to the organization and the ways they enrich our patients' lives.
Click here to find more information about our volunteer program and learn how to apply.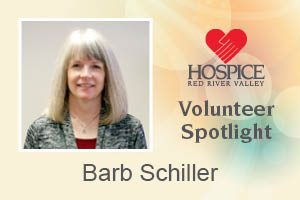 Volunteer Coordinator: Barb Schiller
Location: Detroit Lakes, MN
Since: 2016
Why do you work as a volunteer coordinator for Hospice of the Red River Valley?
I work for Hospice because I believe in the mission.
What is your favorite part of your job?
It's very rewarding to connect volunteers with patients. It is a win/win for patients, families, the volunteer and staff. Volunteers are very in tune and perceptive to the needs of the patients they see. They bond with their patient and let us know details that staff might miss. I also enjoy the Celebration Bear program. Families are so happy when they see their loved one's clothes made into a little bear that they, their kids or grandkids will have for years to come.
Tell us about one of your favorite experiences as a volunteer coordinator.
One of my favorite experiences was delivering Celebration Bears to a friend of mine. She had such a big smile, and I could see in her eyes the joy of remembering her loved one.
What are two personal habits that have served you well?
Getting up early every morning to have some quiet time and read my Bible, and being flexible enough to go with the flow of whatever comes at me during the day.
What are your hobbies?
Two of my hobbies are playing piano and doing puzzles.