At Hospice of the Red River Valley, we're fortunate to have many dedicated volunteers. We celebrate their contributions to the organization and the ways they enrich our patients' lives.
Click here to find more information about our volunteer program and learn how to apply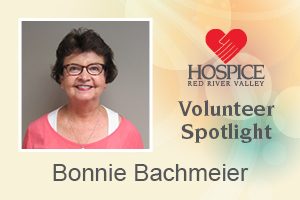 Volunteer: Bonnie Bachmeier
Location: West Fargo, ND
Volunteering since: 2015
Why do you choose to volunteer with Hospice of the Red River Valley?
I recently retired and was interested in giving back to the Fargo community. A friend of mine mentioned Hospice. It was almost like a calling. I met with the volunteer services manager for an informative meeting, and the rest is history.
What accomplishments are you most proud of?
Not sure of my accomplishments, but I know what a good I feeling I have when I leave the residence of the one under Hospice care. Their appreciation and kindness makes me eager for my next visit.
Describe your perfect day.
Whether it is preparing meals, light housekeeping or just a visit, the volunteering I do for Hospice fits into making it perfect day.