At Hospice of the Red River Valley, we're fortunate to have many dedicated volunteers. We celebrate their contributions to the organization and the ways they enrich our patients' lives.
Click here to find more information about our volunteer program and learn how to apply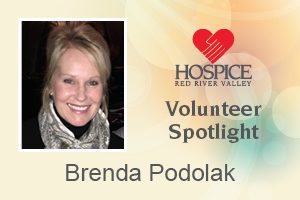 Volunteer: Brenda Podolak
Location: Oxbow, ND
Volunteering since: 2011
Why do you volunteer with Hospice of the Red River Valley?
I am grateful for my friend Deb Gemar who encouraged me to become a patient care volunteer with Hospice of the Red River Valley. I feel a special privilege in being able to share my time with people who are nearing the end of life. I am constantly inspired by their life stories and welcome the challenge of finding ways to give comfort, offer support, and connect with them in this time of need. It is a gratifying and loving experience that makes me feel useful.
What's your favorite volunteer memory?
I remember participating in a music program with one of my patients who had Alzheimer's. It was so beautiful to see the positive effects that familiar songs had on her. She sang with a smile on her face, and she would hold up her maracas and say "Shake it, but don't break it," and everyone would laugh. I love these moments of joy!
Do you have a motto or philosophy that you live by?
Don't be afraid to use your gifts and talents to help others. The true blessing comes
when we give them away. When you are in the place that God wants you to be, you will feel it.