At Hospice of the Red River Valley, we're fortunate to have many dedicated volunteers. We celebrate their contributions to the organization and the ways they enrich our patients' lives.
Click here to find more information about our volunteer program and learn how to apply.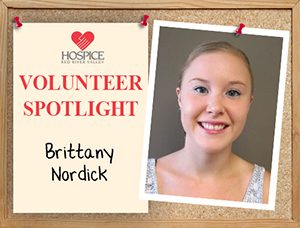 Volunteer: Brittany Nordick
Years of Service: 6 months
Location: Fargo, N.D.
Why do you volunteer with
Hospice of the Red River Valley?
I get to make a difference in someone's life and make a positive impact on my own. I have told my patient many times, "I get just as much or more than you do out of our visits together." Every visit leaves a smile on my face.
What is your favorite volunteer memory?
For Christmas I wanted to wrap gifts in newspaper comics. My patient receives the paper regularly and saved the comics for me to use as wrapping paper. My family was thrilled that their presents were wrapped beautifully and that it was the result of the special relationship I have with my Hospice patient.
Do you have a motto or philosophy you live by?
Each day is limited to a set number of hours, and only so much can be done. Therefore, invest time in what means the most to you. When something is important to you, it is easier to go above and beyond.
What hobbies do you enjoy?
Walking my dog, scrapbooking, cooking and doing crafts.