At Hospice of the Red River Valley, we're fortunate to have many dedicated volunteers. We celebrate their contributions to the organization and the ways they enrich our patients' lives.
Click here to find more information about our volunteer program and learn how to apply.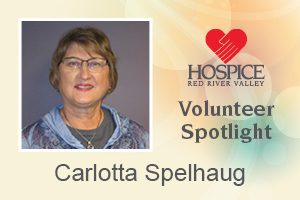 Volunteer: Carlotta Spelhaug
Location: Kindred, ND
Volunteering since: 2014
Why do you choose to volunteer with Hospice of the Red River Valley?
I make Celebration Bears for family members of Hospice patients. I so enjoy seeing what the family has chosen for their bears. I have had sweatshirts, robes, shirts, blouses and even light weight blankets. It is a delight to see how they turn out. I started the summer of 2014, and so far I have made 20 bears for 10 families. As a former oncology nurse I feel the closeness to the chosen articles of clothing. This has been a gift to me.
What are your hobbies?
My hobbies are sewing, quilting, reading and gardening. I have four grandchildren who live near me, and their sports and dancing activities keep me busy.
What's your favorite travel memory?
My husband and I love to travel, but I have two family vacations that stand out. We are of Norwegian decent. My son and daughter went to Concordia Language Village Camp as children. When it got too busy in the summer to include Skogfjorden, I talked them into going to Norway as their college graduation present. It was a wonderful two weeks of seeing where my grandfather grew up and visiting cousins. I am so happy that my now daughter-in-law was able to experience the trip with us. My mom, now 88, still talks about the trip. My second favorite was a trip to Florida for our 35th anniversary and our daughter's 30th birthday. We rented a house with a pool near Disneyworld. Having all nine family members together was priceless.