At Hospice of the Red River Valley, we're fortunate to have many dedicated volunteers. We celebrate their contributions to the organization and the ways they enrich our patients' lives.
Click here to find more information about our volunteer program and learn how to apply.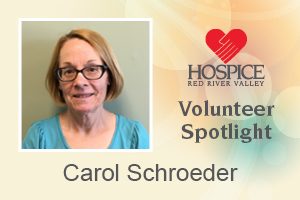 Volunteer: Carol Schroeder
Location: Fargo, N.D.
Volunteering since: 2016
Why do you volunteer with Hospice of the Red River Valley?
I wanted to volunteer at Hospice of the Red River Valley because it's a great non profit organization. They do everything possible to make the end of life comfortable for the dying. Hospice was a big help to my dear friend who passed away a few years ago.
What are you most proud of?
I am most proud of the fact that I went to college for the first time when I was 49-years-old. I have a two-year degree in horticulture/landscape design.
What are your hobbies?
My hobbies are reading, sewing, knitting and walking my beagle, Hazel.