At Hospice of the Red River Valley, we're fortunate to have many dedicated volunteers. We celebrate their contributions to the organization and the ways they enrich our patients' lives.
Click here to find more information about our volunteer program and learn how to apply.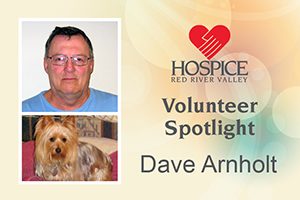 Volunteer: Dave Arnholt
Location: Moorhead, MN
Volunteering since: 2010
Why do you choose to volunteer with Hospice of the Red River Valley?
I chose to be involved with Hospice because my family has used Hospice services twice now. My father was under Hospice care, as was my step-father. It made a tremendous difference for both of them and, in particular, for my mom.
What is your favorite volunteer memory?
My favorite memory is watching my dog, Mitzy, work a crowd of people. She is a master at that art. Mitzy knows how to work so she is next to the patient but in a way that the attention is given to both of them. Most of the elderly people have a fairly good knowledge of dogs, so discussions cango that way. Mitzy is an Australian Breed "Australian Silky Terrier," or Silky for short. I can go into what the breed does as compared to a Corgi or Sheltie, which are herding dogs.
If you were stranded on an island, which one item would you take with you and why?
If I was stranded on an island, it would be the result of a colossal goof up. I've been on many islands as an adult — thank you, U.S. Air Force — so I know surviving could be tricky. I did think I'd like my dog, but then I'd have to share my food, and who wants to argue with a dog over who gets a couple of minnows and then have the dog say, "Couldn't you do better?" So the item I'd like to have is a fully supplied solar powered amateur radio station. With that I can talk to people and find out through triangulation where the devil I'm at and how can I get off this shelf of sand and rock and get back home.