At Hospice of the Red River Valley, we're fortunate to have many dedicated volunteers. The Volunteer Spotlight celebrates their contributions to the organization and the ways they enrich our patients' lives.
Click here to find more information about our volunteer program and learn how to apply.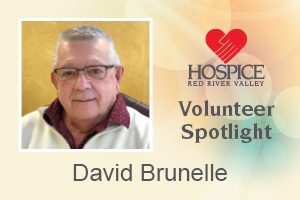 Volunteer: David Brunelle
Location: Fargo, N.D.
Volunteer role: Office and Heirlooms Thrift & Gift Volunteer
Volunteering since: January 2017
Why do you volunteer with Hospice of the Red River Valley?
I want to be out with people and in my community. It's such a great organization; Hospice of the Red River Valley helps so many people along in their journey.
What special skills do you share with the organization?
I can easily relate to others, and I enjoy communicating with customers at Heirlooms and people I meet at the front desk.
What is your favorite memory of your time with HRRV?
Meeting all the different people at Heirlooms. I just love the personnel there; Roxanne, Janis and Paulette are wonderful managers to work for! I love when I get to walk the floor at Heirlooms, helping customers pick out items for their home, helping match their home décor style. It's fun to help them. When we had our volunteer appreciation event, I enjoyed meeting other volunteers that help in the different areas of HRRV.
What are two personal habits that have served you well?
My sense of loyalty to my volunteer jobs and being open-minded to new suggestions.
What are your hobbies?
I like to read, cross stitch, needlepoint, play cards (hand and foot), and put together jigsaw puzzles. I just completed a Christmas puzzle that I might frame and hang up.