At Hospice of the Red River Valley, we're fortunate to have many dedicated volunteers. We celebrate their contributions to the organization and the ways they enrich our patients' lives.
Click here to find more information about our volunteer program and learn how to apply.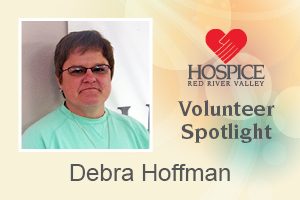 Volunteer: Deb Hoffman
Location: Medina, N.D.
Volunteering since: 2010
What's your favorite volunteer memory?
One patient that I used to visit comes to mind. She loved it when I would take her on wheelchair rides. We would go on long walks outside, and she told me how much she appreciated it. She loved it, and it meant so much to her!
What are you most proud of?
I am most proud of my family, my children and my grandchildren. My family is a big thing in my life. We are all very close.
If you could change the world, what would you change?
I would like for people to not stress over the little things in their lives. I especially would like to see more families be able to forgive each other, overlook their differences and try hard to get along!