At Hospice of the Red River Valley, we are fortunate to have many dedicated volunteers. We celebrate their contributions to the organization and the many ways they enrich our patients' lives.
Click here to find more information about our volunteer program and learn how to apply.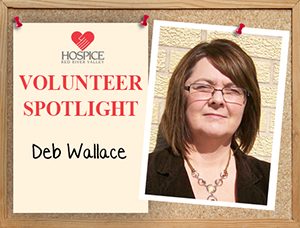 Volunteer: Deb Wallace
Years of Service: Since 2010
Location: Cooperstown, N.D.
What's your favorite volunteer memory from your time with Hospice of the Red River Valley?
I remember providing respite support for an HRRV patient. When I would go into the home, the patient's husband was constantly worried about my needs and wanting to know if I needed anything. I will never forget this patient's husband's dedication and love for his wife and for the people that surrounded him.

What hobbies do you enjoy?
Sewing and gardening.