At Hospice of the Red River Valley, we're fortunate to have many dedicated volunteers. We celebrate their contributions to the organization and the ways they enrich our patients' lives.
Click here to find more information about our volunteer program and learn how to apply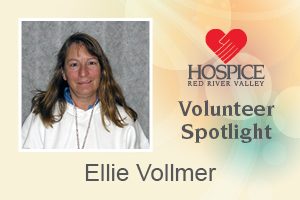 Volunteer: Ellie Vollmer
Location: Perham, MN
Volunteering since: April 2010
Why do you volunteer with Hospice of the Red River Valley?
I have worked off and on with the elderly since I was 18-years-old: first as a nurse's side, and also in private duty, home health, nursing home social work, admissions and discharge planning, adult protection intake, personal care and resident assistant. I find that working with people in the final stages of life is both appealing and challenging, and no two people are ever alike. Hospice of the Red River Valley is the third hospice I've been with. I enjoy visiting and being a presence in someone's life towards the end of their journey. It's important work, and I seem to have a gift for it – that's why I volunteer with Hospice.
What accomplishment are you most proud of?
I am proud of my strong educational background, spending eight years in Catholic school, earning an associate's degree in Hawaii, a bachelor's degree in California, and dual master's degrees in Gerontology and Public Administration, with a Certificate in Health Services Administration.
What are your hobbies?
I enjoy learning, so I read quite a bit of non-fiction, history and biographies. I enjoy traveling, planting and growing trees and flowers, rug making, movies, working in the woods, 4-wheeling, crocheting and struggling with technology.