At Heirlooms Thrift & Gift, We're fortunate to have many dedicated volunteers who give generously of their time and talents to support the store—and ultimately, Hospice of the Red River Valley's mission. The Volunteer Spotlight celebrates their contributions to the store and organization.
Click here to find more information about our volunteer program and learn how to apply.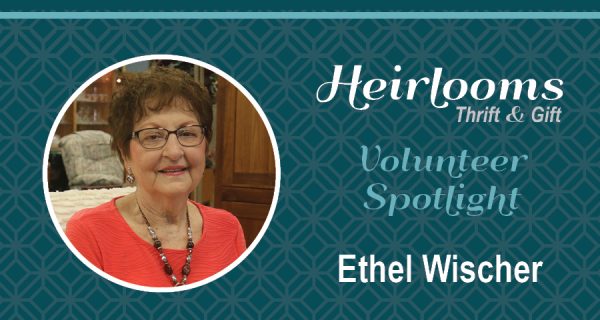 Volunteer: Ethel Wischer
Location: Fargo, N.D.
Volunteer role: Heirlooms Thrift & Gift volunteer
Volunteering since: 2003
Why do you choose to volunteer with Heirlooms?
It's part of my giving back to the community. As you grow older a lot of times, you don't know what you can do or are capable of doing, and this is something I can do. I really believe in hospice, and Heirlooms supports the work of Hospice of the Red River Valley.
What is your favorite aspect of Heirlooms?
It's therapeutic coming here; the managers are excellent. I also enjoy spending time with the other volunteers. We share our good times and our bad times. They are supportive and always there if you need them. We have fun spending our day together. Time is the most valuable gift I can give and also receive from others at this time.
What is your favorite food to make or eat?
I bake a good sour cream pie. I like to make farm meals; that's what I call my meals or my grandma's meals because I used to cook on a farm.
What hobbies to you enjoy?
I'm not a very good sitter; I like to be moving. I enjoy parties, entertaining and cooking. I enjoy having people visit for soup or something. It's not what's on the table, it's whose around the table that's important. For me, it's about being with people. I just joined a book club for the first time. My favorite books are the books I can learn from: biographies and autobiographies.