At Hospice of the Red River Valley, we're fortunate to have many dedicated volunteers. We celebrate their contributions to the organization and the ways they enrich our patients' lives.
Click here to find more information about our volunteer program and learn how to apply.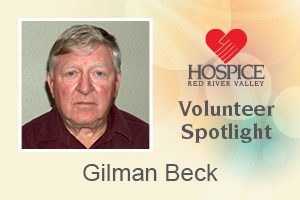 Volunteer: Gilman Beck
Location: Northwood, ND
Volunteering since: 2000
Why do you choose to volunteer with Hospice of the Red River Valley?
I had a son die at the age of 33, and after his death, I wanted to be able to give back to the community the way the community gave to me and my family during that challenging time in our lives. Volunteering for Hospice and other organizations in the community has helped me and my wife grieve the loss of our son.
What accomplishments are you most proud of?
Volunteering for Hospice has enriched my life in so many ways. I feel that I have gained a lot of great relationships, and it has taught me how to handle stressful situations. I really enjoy helping others and making a difference in others' lives. That is what I am most proud of!