Meet Hal O'Connor, an office volunteer at Hospice of the Red River Valley. Office volunteers greet visitors and assist with filing, data entry, mailings and other clerical duties.
Name: Hal O'Connor
Location: Detroit Lakes, MN
Volunteer Role: Office
Volunteering Since: April 1994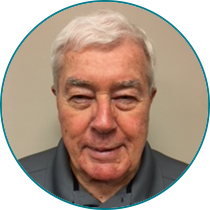 Tell us about your role and why you choose to volunteer with Hospice of the Red River Valley?
I am presently working in the office, but I used to do respite care. I had just retired and needed to keep busy. It was a good match.
What would you say to someone who is interested in volunteering with Hospice of the Red River Valley?
It would be an excellent choice. We are doing something very important for our patients while keeping ourselves busy.
If you were given $1,000,000 to spend however you'd like, what would you do?
A lot would go to my favorite charities. A lot would go to close family and someone we might know who is down on their luck. I would keep the same lifestyle that we have now.
What is your favorite vehicle and why?
My favorite was a 1948 Plymouth Club Coupe in high school. I milled the head, changed the air cleaner and put a full dual exhaust on it. I did a lot of street drag racing and won at least 90 percent of the time. I have a lot of great memories in that car. Today, I like the Jeep Wrangler Unlimited Sahara.
At Hospice of the Red River Valley, we're fortunate to have dedicated volunteers of all ages and backgrounds throughout our service area. The Volunteer Spotlight celebrates their contributions to the organization and the ways they enrich our patients' lives.
Want to become a volunteer? Whatever your skills and interests, we have a role for you! Learn how to get started.