At Hospice of the Red River Valley, we're fortunate to have many dedicated volunteers. We celebrate their contributions to the organization and the ways they enrich our patients' lives.
Click here to find more information about our volunteer program and learn how to apply.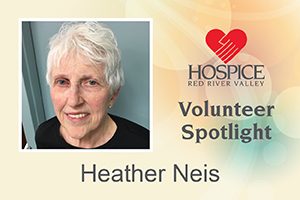 Volunteer: Heather Neis
Location: Fargo, N.D.
Volunteering since: 2007
Why do you volunteer with Hospice of the Red River Valley?
My husband Sam died 13 years ago, and the bereavement program was a big support to me during that time. I wanted to give back to Hospice, so I began volunteering at Heirlooms Thrift & Gift.
What is your favorite food?
Pecan pie
What accomplishment are you most proud of?
I had a successful teaching career, and I'm now happily retired. I also have two wonderful children.
What has been your favorite vacation?
Scotland—the Scottish Highlands. I've been seven times! I also enjoy London.
Describe your perfect day.
A nice long walk with my pups, getting my to-do list done, and volunteering at Heirlooms!
What's your favorite volunteer memory?
I've gotten to know so many people at Heirlooms, and I look forward to seeing the friends I've made every time I'm here.
What hobbies do you enjoy?
I have a 13-year-old Scottie dog (Duncan) and a naughty little 1-year-old West Highland White Terrier (Winston) that I enjoy walking with. They need the exercise, and so do I! I also like to play Mah Jongg and Party Bridge.
If you had no fear, what would you do?
Skydiving!