At Hospice of the Red River Valley, we're fortunate to have many dedicated volunteers. We celebrate their contributions to the organization and the ways they enrich our patients' lives.
Click here to find more information about our volunteer program and learn how to apply.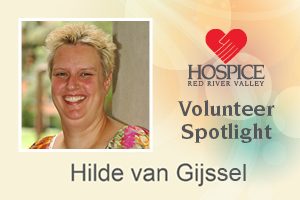 Volunteer: Hilde van Gijssel
Location: Valley City, N.D.
Volunteering since: 2006
Why do you volunteer with Hospice of the Red River Valley?
I believe in the mission of hospice. I believe we as people should have a say in how we live the last months of our lives. Hospice gives people options and provides an alternative. It supports the choices people make about their end-of life care. Not enough people know about and understand what hospice can do. It is my mission to help change that.
What's your favorite volunteer memory?
All my experiences with patients had something special, and I really cherish all of them. I had the honor to help a patient build a chicken coop and catch chickens in 100-degree weather; and I met a Valley City State University "Hall of Famer" who loved to share his stories with me. However, my favorite memory is with a patient who was bed-bound because of oxygen needs. He did not even have enough energy to move from his bedroom to the living room. Therefore, his world was very small. I would take him in out in a wheelchair on Sundays to get fresh air and make him laugh. Hospice was able to help him receive a scooter, and one Sunday we went out together. I will never forget the pure joy this patient exhibited that day. After this day I nicknamed him "Speedy" because I had to work hard to keep up.
If you had no fear, what would you do?
I was living in Washington D.C. when 9-11 happened. Two weeks after 9-11, I decided that living in fear would only harm myself. I made the conscious decision to live without fear and live my life to the fullest with no regrets, whatever challenge comes my way.
What accomplishments are you most proud of?
Writing my thesis for my Ph.D. I was told when I was 13 by my first English teacher that I would never learn to speak English, so writing a 128-page thesis in English and successfully finishing the program was something that has stayed with me and made me aware that determination goes a long way.
What hobbies do you enjoy?
In 2008 I began talking violin lessons and was invited to play in the Valley City Civic Orchestra. I never thought about this as a kid because I did not like the sounds of the violin. I have since learned that playing music with others is one of my favorite things to do.
What is your favorite food?
Multigrain sandwich with aged cheese. This is the first thing I eat when I travel back to the Netherlands to visit my family. Nothing in the U.S. comes close to this.