At Hospice of the Red River Valley, we're fortunate to have many dedicated volunteers. We celebrate their contributions to the organization and the ways they enrich our patients' lives.
Click here to find more information about our volunteer program and learn how to apply.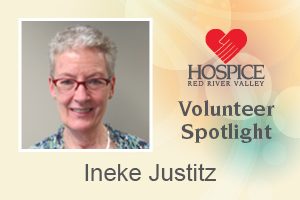 Volunteer: Ineke Justitz
Location: Moorhead, Minn.
Volunteering since: 2015
Why do you volunteer with Hospice of the Red River Valley?
I believe that everyone wants to live life with dignity until the very end. Hospice of the Red River Valley helps make that possible.
What's your favorite volunteer memory?
Every patient has given me beautiful memories by sharing some of his or her favorite stories. And I learn a lot. For instance, I learned that eating a lot of bread can kill a cow. A patient told me a story: It was during the Depression, and the family had one cow. It was a hot summer day, and the doors of the kitchen were wide open. The mother had just baked many loaves of bread. She left the kitchen, and the cow wandered into the kitchen and ate all the bread. The cow died within 24 hours. The family had no more cows. A neighbor, however, gave a calf to the family. The patient and I laughed, and we talked about the Depression and the kindness shown by neighbors. When I got home, I googled, "Can cows die from eating too much bread?" Yes, they can. Everyday I visit a patient is a special day!
Complete this sentence: If I could change the world, I would. . .
Eliminate inequality.