At Hospice of the Red River Valley, we are fortunate to have many dedicated volunteers. We celebrate their contributions to the organization and the many ways they enrich our patients' lives.
Click here to find more information about our volunteer program and learn how to apply.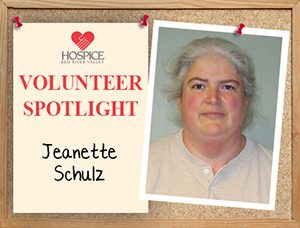 Volunteer: Jeanette Schulz
Years of Service: Since 2010
Location: Fargo
Why do you choose to volunteer with Hospice of the Red River Valley?
I want to be supportive of HRRV and volunteering is a way I could do so.

What type of work do you do?
I volunteer at the reception desk at HRRV and also do sewing for the Celebration Bear program. This is a program where bears are constructed from articles of clothing from a loved one. The bears are wonderful keepsakes for family members.
What hobbies do you enjoy?
I enjoy sewing, crocheting, knitting, baking, camping and gardening. I like to see other people enjoy their hobbies and borrow techniques from one hobby or craft to use in another – forever learning.