At Heirlooms Thrift & Gift, We're fortunate to have many dedicated volunteers who give generously of their time and talents to support the store—and ultimately, Hospice of the Red River Valley's mission. The Volunteer Spotlight celebrates their contributions to the store and organization.
Click here to find more information about our volunteer program and learn how to apply.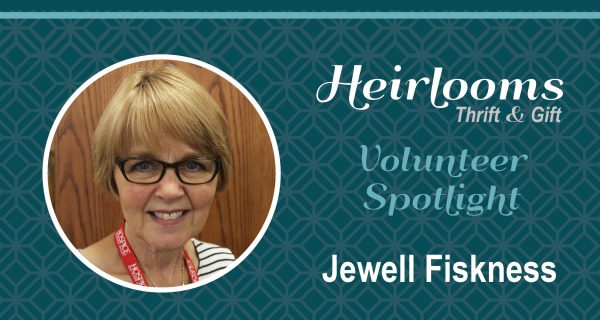 Volunteer: Jewell Fiskness
Location: Fargo, N.D.
Volunteer role: Heirlooms Thrift & Gift volunteer
Volunteering since: 2014
Why do you choose to volunteer with Heirlooms?
I love my days at Heirlooms! It's a bit like playing house arranging and putting out the products. I appreciate that the profits go to supporting Hospice. The managers and volunteers are very welcoming and supportive. I love assisting customers!
Describe your favorite volunteer memory.
It's very fun to place a product in a new—previously obscure—place and then have a customer find it and sell it on your shift. I love to observe the displays Heirlooms staff creates!
What is your favorite aspect of Heirlooms?
It's a high-end thrift shop; it always looks great. The donations are amazing, but above all, it helps people at a very vulnerable and significant time in their lives.
How does it make you feel to know your work at Heirlooms support Hospice of the Red River Valley's mission?
I appreciate so much the mission and purpose of Hospice and love being a tiny little part of what they do!
What is your favorite food to make or eat?
My mom made ice cream sandwiches for my 10th birthday party. They consist of rice krispies, peanut butter and ice cream. I have shared the recipe and made it dozens of times!
What accomplishment are you most proud of?
I appreciate the opportunity to be with people and hopefully help in some way.
Describe your perfect day.         
Sunshine! Time at Heirlooms or a day at home quilting, reading, lunch with a friend or friends. I enjoy hearing people's stories.
What hobbies do you enjoy?    
Reading, biking, hiking, outings with friends, time with family, quilting, studying decorating and architecture projects.