Meet Joyce, a courier volunteer at Hospice of the Red River Valley. Courier volunteers pick up and deliver supplies and medications to hospice patients.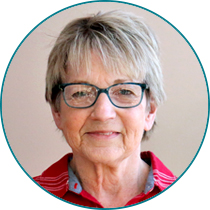 Name: Joyce Gilbraith
Location: West Fargo, ND
Volunteer Role: Courier Volunteer 
Volunteering Since: March 2011
Tell us why you choose to volunteer with Hospice of the Red River Valley.
I chose to volunteer for Hospice because they were very helpful with my husband, who they cared for. I wanted to give back to Hospice of the Red River Valley the way they gave to us.
What is your favorite part about volunteering with Hospice?
Patients and families are very grateful towards me when I deliver supplies to their homes or facilities. Sometimes they mistake me for a nurse, which always make me chuckle. I feel that the patients and families are very appreciative of hospice services.
What would you say to someone who is interested in volunteering with Hospice of the Red River Valley?
Go for it! Volunteering for Hospice is very flexible, and I enjoy working with everyone. Hospice staff has been so nice to me.
What are you most grateful for?
My grandkids and my family.
At Hospice of the Red River Valley, we're fortunate to have dedicated volunteers of all ages and backgrounds throughout our service area. The Volunteer Spotlight celebrates their contributions to the organization and the ways they enrich our patients' lives.
Want to become a volunteer? Whatever your skills and interests, we have a role for you! Learn how to get started.