At Hospice of the Red River Valley, we're fortunate to have many dedicated volunteers. We celebrate their contributions to the organization and the ways they enrich our patients' lives.
Click here to find more information about our volunteer program and learn how to apply.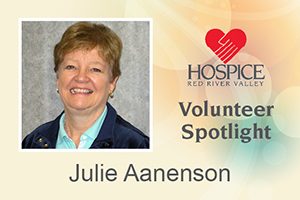 Volunteer: Julie Aanenson
Location: Detroit Lakes, Minn.
Volunteering since: November 2011
Why do you volunteer with Hospice of the Red River Valley?
I believe I get more out of it than the patient does! It is so rewarding to know that you are making the patient happy just by spending time with them.

What's your favorite volunteer memory?
I was visiting a patient who never communicated with anyone due to her dementia, and I always sing songs to her when I visit. One day after visiting for quite a few months, I was singing and she started to sing along with the song! She knew every word. I hadn't heard her speak until then. It was an amazing moment!
What hobbies do you enjoy?
Playing piano.
What has been your favorite vacation?
Maui, definitely!