At Heirlooms Thrift & Gift, We're fortunate to have many dedicated volunteers who give generously of their time and talents to support the store—and ultimately, Hospice of the Red River Valley's mission. The Volunteer Spotlight celebrates their contributions to the store and organization.
Click here to find more information about our volunteer program and learn how to apply.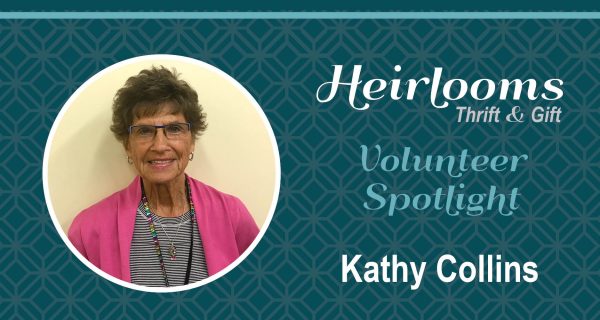 Volunteer: Kathy Collins
Location: Fargo, N.D.
Volunteer role: Heirlooms Thrift & Gift volunteer
Volunteering since: 2009
Why do you choose to volunteer with Heirlooms?
Because its mission does good work for Hospice of the Red River Valley! If feels extra special to support something as good as the Hospice programs.
What is your favorite aspect of Heirlooms?
The neat and special employees and volunteers I work with. It cannot be beat.
What accomplishment are you most proud of?
Cleaning, vacuuming, folding and anything I can do to help out the Heirlooms staff. They are so special!
What is your motto or philosophy you live by?
"Today is a day I won't ever have again. When tomorrow comes, I'll be on my way, and then, there'll be brand new things to do and see. Worlds will open up for me, but I don't want to leave everything I've known today!" This is a song I taught my "Choraliers" choir.
What is your favorite food to make or eat?
Popcorn or hamburger hotdish
If you had no fear what would you do?
Go for a hot balloon ride or parachute out of a plane.