Meet Kay Heuer, an office and Celebration Bears volunteer at Hospice of the Red River Valley. Office volunteers greet visitors and assist with filing, data entry, mailings and other clerical duties while Celebration Bears volunteers sew bears made from a hospice patient's clothing for the family or loved ones as a keepsake to celebrate the patient's memory.
Name: Kay Heuer
Location: West Fargo, ND
Volunteer Role: Celebration Bears and Office
Volunteering Since: March 2018
Tell us about your role and why you volunteer with Hospice of the Red River Valley.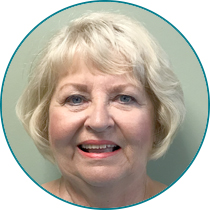 I share two volunteer roles at Hospice. I sew Celebration Bears and help out one day a week in the office. I started volunteering because it was something that I always have done. I came from a small community and there were so many opportunities to volunteer. I came to Hospice of the Red River Valley as a volunteer because my husband was a patient on hospice services. They helped our family so much during Rolly's illness. I wanted to give something back, and I felt this was a way to do so.
What's your favorite thing about volunteering with Hospice of the Red River Valley?
The people here are so nice. At Hospice, people are so caring and appreciative of what you do. It is a real pleasure to come and help out.
What would you say to someone who is interested in volunteering with Hospice of the Red River Valley?
I would tell anyone that was interested in volunteering to just do it. You will get back twice what you put into it. Volunteering is a way to give back to others, and it has been a real blessing.
What inspires you to create a Celebration Bear?
I think it is challenging to create these bears, because when you get your bag of material it is always a surprise. You work with the pattern and start constructing the bear. At the end, when they are all complete, the bear takes on its own personality. That surprises me every time I complete one.
How do you feel about helping people remember a loved one?
Having gone through the grief myself it is important to have a piece of your loved one. You can always hold onto it when you are having one of those moments of grief. I made a bear out of my mother's favorite blouses. Every time I see that bear I think of her, how she loved that blouse and all the wonderful times we shared together when she wore it. It's called comfort!
At Hospice of the Red River Valley, we're fortunate to have dedicated volunteers of all ages and backgrounds throughout our service area. The Volunteer Spotlight celebrates their contributions to the organization and the ways they enrich our patients' lives.
Want to become a volunteer? Whatever your skills and interests, we have a role for you! Learn how to get started.