At Hospice of the Red River Valley, we're fortunate to have many dedicated volunteers. We celebrate their contributions to the organization and the ways they enrich our patients' lives.
Click here to find more information about our volunteer program and learn how to apply.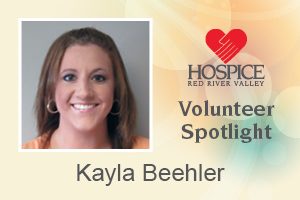 Volunteer: Kayla Beehler
Location: West Fargo, N.D.
Volunteering since: 2015
Why do you volunteer with Hospice of the Red River Valley?
I have had a few people close to me in the care of Hospice. They said great things about the program, the employees and the volunteers. It breaks my heart that there are so many people in this world who spend their last days alone, and I knew that I could help change that. I think it is a fabulous organization, and it is truly a blessing to meet the patients who I come in contact with. I have the privilege of getting to know some very special people at a very important time in their lives.
What's your favorite volunteer memory?
The very first patient I ever had was simply amazing. She taught me so many life lessons and was such a blessing to talk to. I looked forward to our visits every week. During one of the visits, we were talking about my dream wedding, and the first thing out of her mouth was, "Do I get to be a bridesmaid?" I said, "Absolutely! What color dress would you like to wear?" Her response was, "Yellow. I had yellow roses at my wedding, and I think you should have yellow dresses." So one day, at my dream wedding, I will have yellow roses for a very special person who has a very special place in my heart. If you asked her what her one piece of advice about life is, she would say, "Don't take it too seriously, and if you love someone, don't let them go." She was an amazing person, and she will always have a special place with me!
What's your favorite food?
This is a tough one, but I would have to say pasta. Pasta Carbonara from Cheesecake Factory is my absolute favorite! Probably the unhealthiest thing on the menu, but life is too short to not live a little!