At Hospice of the Red River Valley, we're fortunate to have many dedicated volunteers. We celebrate their contributions to the organization and the ways they enrich our patients' lives.
Click here to find more information about our volunteer program and learn how to apply.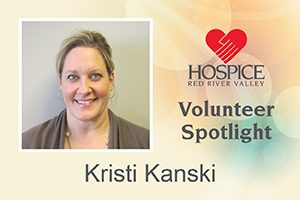 Volunteer: Kristi Kanski
Location: West Fargo, N.D.
Volunteering since: 2016
Why do you volunteer with Hospice of the Red River Valley?
The employees at my job contribute to a charitable fund, and we donate to a different place each year. A couple of years ago we made a donation to Hospice of the Red River Valley. My co-worker who presented the donation had so many great things to say about Hospice after that experience. This intrigued m,e so I decided to do a little research for myself to learn more. I'm a firm believer the world needs more kindness, and I really feel the mission of Hospice aligns with my feelings of how we can each do our part to make the world a little better. I have met some pretty incredible people on this journey. They have all touched my heart in ways I never expected. I am a better person because of them.
What is your favorite volunteer memory?
I visited a patient who was more than 40 years my senior. It felt as though she was my kindred spirit. She had the best stories, and we would both giggle like a couple of little school girls every time we saw each other. She just loved to make people laugh. We didn't know each other long before she passed away, but a smile still appears on my face every time I think of her.
What is your favorite food?
I'm always in the mood for some crispy chicken wings. You name it: bone-in, boneless, hot or cold…I'm not fussy. I'm also a sucker for a good tator tot hotdish.