At Heirlooms Thrift & Gift, We're fortunate to have many dedicated volunteers who give generously of their time and talents to support the store—and ultimately, Hospice of the Red River Valley's mission. The Volunteer Spotlight celebrates their contributions to the store and organization.
Click here to find more information about our volunteer program and learn how to apply.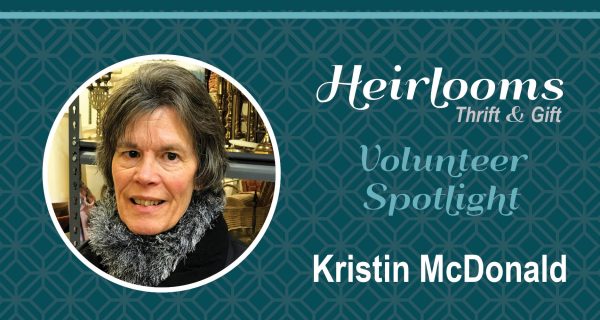 Volunteer: Kristin McDonald
Location: Fargo, N.D.
Volunteer role: Heirlooms Thrift & Gift volunteer
Volunteering since: 2017
Why do you choose to volunteer with Heirlooms?
I wanted to continue volunteering with Hospice after I retired my pet therapy dog.
How does it make you feel to know your work at Heirlooms support Hospice of the Red River Valley's mission?
I know that I am helping support a cause that is near and dear to my heart.
What is your favorite aspect of Heirlooms?
The friendly staff and group of volunteers.
Describe your perfect day.
Waking up to bright sunshine and no wind!
What is your favorite food to make or eat?
Anything chocolate.
What hobbies to you enjoy?
Dogs, genealogy and knitting.
Do you have a motto or philosophy you live by? What is it and why?
Live every day like it is your last. I realized how precious life is when I lost my husband suddenly.
If you had no fear, what would you do?
Take a hot air balloon ride.