At Heirlooms Thrift & Gift, We're fortunate to have many dedicated volunteers who give generously of their time and talents to support the store—and ultimately, Hospice of the Red River Valley's mission. The Volunteer Spotlight celebrates their contributions to the store and organization.
Click here to find more information about our volunteer program and learn how to apply.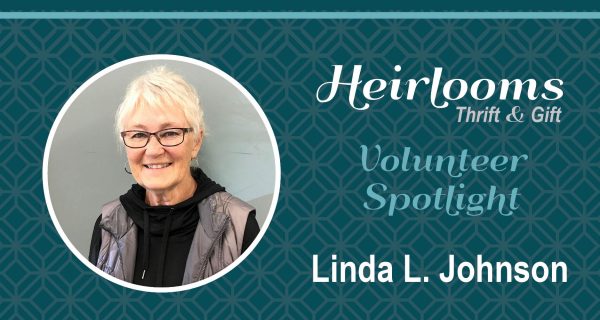 Volunteer: Linda L. Johnson
Location: Fargo, N.D.
Volunteer role: Heirlooms Thrift & Gift volunteer
Volunteering since: 2003
Why do you choose to volunteer with Heirlooms?
It is the very best resale shop I have ever been in—so much fun to look around and shop!
What is your favorite aspect of Heirlooms?
It's a joy coming to work, and it's a "new" store every time.
How does it make you feel to know your work at Heirlooms support Hospice of the Red River Valley's mission?
Super. We used Hospice when my mom needed it and found it to be a wonderful organization.