At Hospice of the Red River Valley, we're fortunate to have many dedicated volunteers. We celebrate their contributions to the organization and the ways they enrich our patients' lives.
Click here to find more information about our volunteer program and learn how to apply.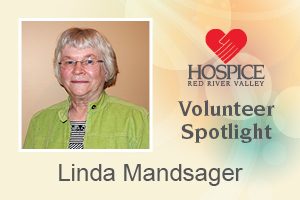 Volunteer: Linda Mandsager
Location: Felton, MN
Volunteering since: 2002
Why do you volunteer with Hospice of the Red River Valley?It's a worthwhile cause. We had hospice care for my mother and brother, and it's my way to pay them back for all they did for me and my family. I really believe in Hospice of the Red River Valley.
What is your favorite food?
Potato dumplings
What accomplishment are you most proud of?
My family
What has been your favorite vacation?
Taking a trip to Alaska
Describe your perfect day.
Spending time with my family and spoiling my grandchildren!
What is your favorite part of volunteering?
I enjoy giving back to Hospice, meeting people and the comradery with the other volunteers. It jumpstarts my week!
What hobbies do you enjoy?
Quilting, knitting, crocheting and embroidery
If you had no fear, what would you do?
I would go ziplining or skydiving.