At Hospice of the Red River Valley, we're fortunate to have many dedicated volunteers. We celebrate their contributions to the organization and the ways they enrich our patients' lives.
Click here to find more information about our volunteer program and learn how to apply.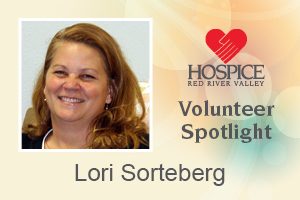 Volunteer: Lori Sorteberg
Location: Thief River Falls, MN
Volunteering since: 2011
Why do you volunteer with Hospice of the Red River Valley?
I want to live a "serve others" lifestyle. By serving others and making their lives better, I feed my own soul, and it seems I always receive back more joy and blessings than I ever give.
What accomplishment are you most proud of?
I am most proud of my two children, Lisa and Sean. They have brought more joy and happiness to my life than I ever imagined.
What's the most exotic place you have visited?
The most exotic place I have been to is Puerto Rico. My family was stationed there when I was a young girl. This spring, almost 50 years later, I will be going back on vacation with my husband Mike, and my children and their spouses.