At Hospice of the Red River Valley, we're fortunate to have many dedicated volunteers. We celebrate their contributions to the organization and the ways they enrich our patients' lives.
Click here to find more information about our volunteer program and learn how to apply.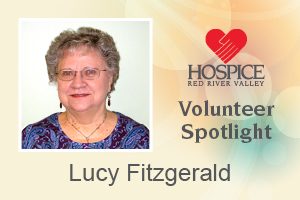 Volunteer: Lucy Fitzgerald
Location: Moorhead, MN
Volunteering since: 2006
Why do you choose to volunteer for Hospice of the Red River Valley?
I love volunteering for Hospice of the Red River Valley. Everyone is so nice. I volunteer at the reception desk in the Fargo office, and in the past I have gone on patient visits.
What was your most rewarding experience as a Hospice volunteer?
I was matched with a male patient and was a little nervous about what we would have in common. When visiting for the first time, we found that we both come from a farming background, and we talked nonstop for an hour and half. When I left that day, I promised him that I would be back. I received a call a few days later informing me that the patient was unresponsive and declining, and he did not have much time left. I visited the patient as soon as I could. When he heard my voice, he squeezed my hand. He died shortly after my visit. I will never forget that patient and the importance of doing what you say you will do.
What are your hobbies?
Knitting and volunteering at my church.