At Hospice of the Red River Valley, we're fortunate to have many dedicated volunteers. We celebrate their contributions to the organization and the ways they enrich our patients' lives.
Click here to find more information about our volunteer program and learn how to apply.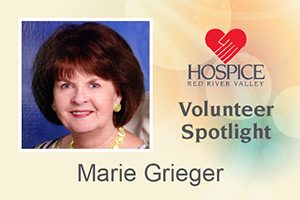 Volunteer: Marie Grieger
Location: Fargo, N.D.
Volunteering since: 2003
Why do you volunteer with Hospice of the Red River Valley?
I think it's a wonderful mission! Hospice is a wonderful service for when people are in need. Fifteen years ago when I moved to Fargo, I was looking for a volunteer opportunity. Hospice helped us through a death in the family, and I saw in the paper that Hospice was opening a thrift store called Heirlooms, and I decided to volunteer.
What is your favorite food?
Sweets!
What accomplishment are you most proud of?
Bringing up four wonderful children.
What has been your favorite vacation?
For our 50th wedding anniversary, my husband and I went to Mexico with our entire family to celebrate over Christmas!
Describe your perfect day.
Sitting on a warm day, looking at the lake with a good book.
What's your favorite part of volunteering with Hospice of the Red River Valley?
I've made so many new friends through working at Heirlooms.
What hobbies do you enjoy?
Collecting jewelry, sewing, reading and puttering in my perennial gardens.
What's the most exotic place you have been?
I went on a Caribbean cruise.
If you had no fear, what would you do?
Skydive!