At Heirlooms Thrift & Gift, We're fortunate to have many dedicated volunteers who give generously of their time and talents to support the store—and Hospice of the Red River Valley's mission. The Volunteer Spotlight celebrates their contributions to the store and organization.
Click here to find more information about our volunteer program and learn how to apply.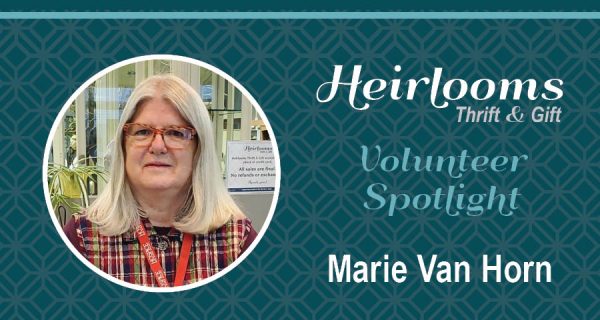 Volunteer: Marie Van Horn
Location: Fargo, N.D.
Volunteer role: Heirlooms Thrift & Gift volunteer
Volunteering since: 2015
Why do you choose to volunteer with Heirlooms?
My parents were both in hospice. The medical care was excellent. The visitors for conversations and short walks lifted their spirits. Now, I give something back.
Describe your favorite volunteer memory.
Our annual volunteer recognition event: seeing the large group of people that I'm part of and knowing the work we accomplish together.
What is your favorite aspect of Heirlooms?
All the wonderful people we have the pleasure of working with.