At Hospice of the Red River Valley, we're fortunate to have many dedicated volunteers. We celebrate their contributions to the organization and the ways they enrich our patients' lives.
Click here to find more information about our volunteer program and learn how to apply.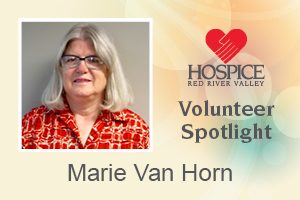 Volunteer: Marie Van Horn
Location: Fargo
Volunteering since: 2015
Why do you choose to volunteer with Hospice of the Red River Valley and Heirlooms Thrift & Gift?
To give back and do what I can to help others.
What is your favorite food?
Prime rib
What accomplishment are you most proud of?
My children, Christopher and Erin
What has been your favorite vacation?
Colorado Springs
Describe your perfect day.
Lying in bed reading a good book with the rain on the roof!
What hobbies do you enjoy?
Reading, playing Scrabble, playing cards and antique shopping.
What's the most exotic place you have been?
Grand Canyon
If you had no fear, what would you do?
Fly across the country in a small airplane.