At Hospice of the Red River Valley, we're fortunate to have many dedicated volunteers. We celebrate their contributions to the organization and the ways they enrich our patients' lives.
Click here to find more information about our volunteer program and learn how to apply.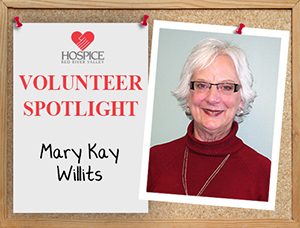 Volunteer: Mary Kay Willits
Years of Service: 5 years, 2 months
Location: West Fargo, N.D.
Why do you volunteer with Hospice of the Red River Valley?
I volunteer with Hospice because it is such a wonderful organization, and I'm honored to be a part of it. Every patient that I've met through my years of volunteering has been a beautiful person. If I hadn't started volunteering with Hospice, I would have never met those individuals. They wouldn't have come into my life. I feel incredibly appreciated by the patients, and I believe that sometimes I get more than I give.
What's the favorite volunteer memory?
I had a first visit with a patient where we connected well and had a pleasant conversation. The patient said she didn't think she would be alive for another visit, but we were together for a year. She said that each visit made her feel better and better. She loved to blow kisses to me. I knew that at one point in her life she had liked to crochet, so instead of making a shawl at home by myself, I let her hold the yarn while I made it. I gave the shawl to the patient, and she said that it was the most wonderful gift she had received.
Do you have a motto or philosophy you live by? What is it and why?
I live with an attitude of gratitude. It's hard to find joy in your heart if you don't.