At Hospice of the Red River Valley, we're fortunate to have many dedicated volunteers. We celebrate their contributions to the organization and the ways they enrich our patients' lives.
Click here to find more information about our volunteer program and learn how to apply.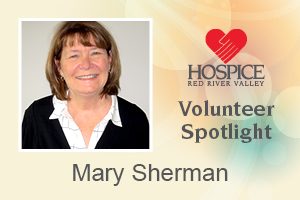 Volunteer: Mary Sherman
Location: West Fargo, N.D.
Volunteering since: 2015
Why do you volunteer with Hospice of the Red River Valley?
I have been retired from teaching for four years and have been so blessed having had a wonderful career and family. I was looking for a way to give back. Last fall my mother-in-law started receiving services from Hospice of the Red River Valley. I was impressed by the organization and knew immediately that this was the right fit for me.
What are your hobbies?
I have been a knitter for most of my life. I love to read and am a member of a fantastic book club. I also do watercolor and adore traveling.
What's your favorite vacation spot?
Every year my husband and I spend a month in Sacramento with our son and his family. It has a very Midwestern feel for a California city, and the weather is great. Other than that we are explorers and love to learn about new countries and diverse cultures.
What's your favorite food?
I love homemade goodies. My joke is that I could write a diet book, the theory would be: "If Mary likes it, don't eat it."