At Hospice of the Red River Valley, we're fortunate to have many dedicated volunteers. We celebrate their contributions to the organization and the ways they enrich our patients' lives.
Click here to find more information about our volunteer program and learn how to apply.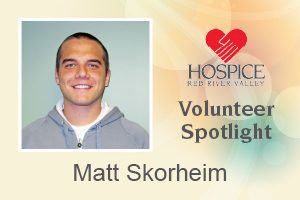 Volunteer: Matt Skorheim
Location: Moorhead, MN
Volunteering since: 2012
Why do you volunteer with Hospice of the Red River Valley?
As a student at Concordia College, I wanted to get involved in an organization that meant something to me. I remember listening to a presentation about how Hospice of the Red River Valley operates and serves the Fargo-Moorhead area and surrounding communities. HRRV serves any individual regardless of their financial background, which is very important considering the price of healthcare. At this point I wanted to become involved in volunteer opportunities. I chose to become a companion volunteer because I knew I already enjoy conversing and getting to know people, learning about their life experiences. It was a perfect fit. I think many times people tend to shy from those individuals who have a terminal diagnosis. I see death as a natural part of life, and simply having a companion to spend time with can go a long way. Volunteering can be difficult, and it's not meant for everyone. However, I know I'm making a big difference, especially when families aren't always able to visit their loved ones.  

What's your favorite volunteer memory?
My favorite memory was being a companion for a gentleman who had gone through many hardships. He had lost family members and separated from the rest. Each visit I made, we talked about his experiences being in the military during World War II and all the places in the world that he had been. I could tell that we both truly enjoyed each other's company. We looked forward visiting each week.  During one visit he gentleman mentioned multiple times how good a particular book about WWII was. On the next visit I brought the book and made a pact with him that I would read it. Now this book is a memory of that gentleman and the time we spent together.

What accomplishment are you most proud of?
My most proud accomplishment involves my education. When I was in high school and college, I suffered multiple injuries as an athlete. I spent many days rehabbing at physical therapy. Eventually it dawned on me that I wanted to enter the physical therapy profession and help those going through the rehabilitation process that I was once in. I am currently in my last year of a clinical doctorate of physical therapy program at the University of Jamestown in Fargo and will graduate in May 2016.