At Hospice of the Red River Valley, we're fortunate to have many dedicated volunteers. We celebrate their contributions to the organization and the ways they enrich our patients' lives.
Click here to find more information about our volunteer program and learn how to apply.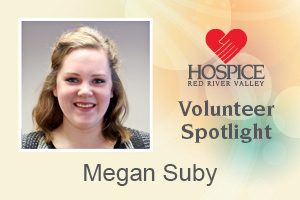 Volunteer Coordinator: Megan Suby
Location: Moorhead, MN
Since: 2015
Why do you work as a volunteer coordinator for Hospice of the Red River Valley?
I work for Hospice because I love being part of an organization that provides a dedicated and genuinely needed service in our community.
What is your favorite part of your job?
I get to work with some pretty amazing volunteers! My favorite part is initiating the connections between volunteers and patients and watching their relationships build over time. The volunteers do all of the work; I'm here to help guide them.
Tell us one of your favorite experiences as a volunteer coordinator.
There are many to choose from! I would say my favorite experience so far has been the volunteer appreciation event that we hold each year. I enjoy meeting volunteers from different parts of our service area, and it's great to see everyone interacting and sharing their stories.
What are your hobbies?
I like to play volleyball, work on renovating my house, and eat Halo Top ice cream in my spare time!