At Heirlooms Thrift & Gift, We're fortunate to have many dedicated volunteers who give generously of their time and talents to support the store—and ultimately, Hospice of the Red River Valley's mission. The Volunteer Spotlight celebrates their contributions to the store and organization.
Click here to find more information about our volunteer program and learn how to apply.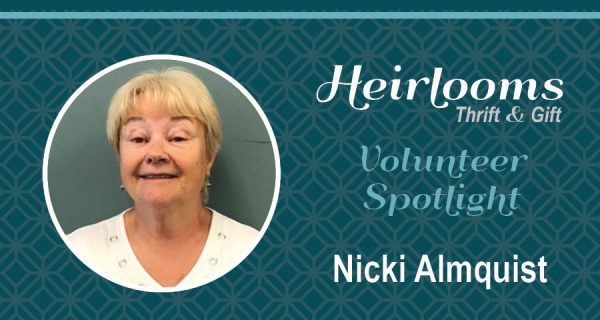 Volunteer: Nicki Almquist
Location: Fargo, N.D.
Volunteer role: Heirlooms Thrift & Gift volunteer
Volunteering since: 2006
Why do you choose to volunteer with Heirlooms?
My dad was a hospice volunteer, and he had Hospice at the end of his life.
What is your favorite aspect of Heirlooms?
I enjoy meeting people and seeing people that I have not seen for a long time. Also, every day is different here.
What accomplishment are you most proud of?
I'm most proud of teaching children for 34 years.
What hobbies to you enjoy?
I enjoy reading, crocheting and golfing.